June 10, 2022
Posted by:

Dejana Grbic-Velagic

Categories:

RAI News, SEE News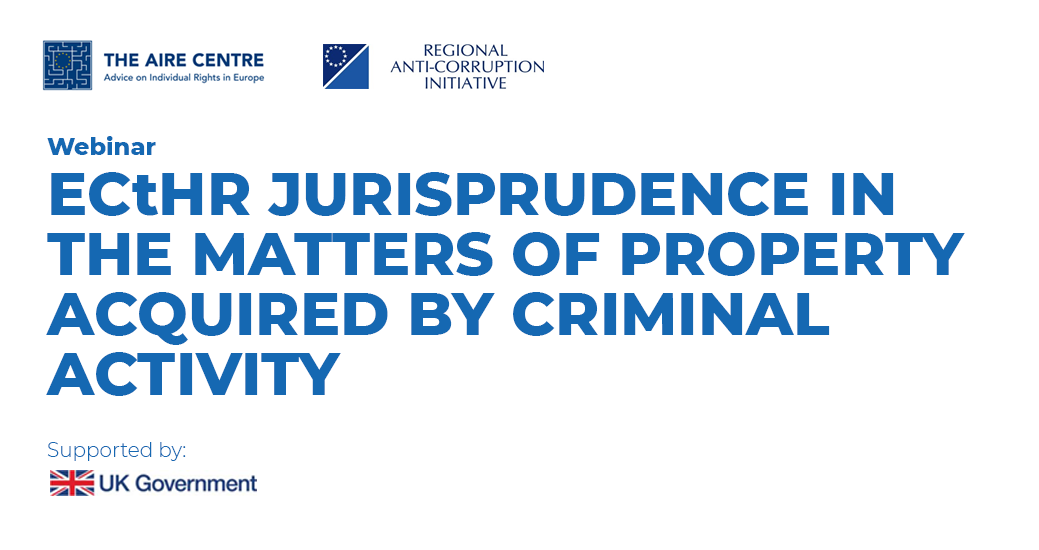 Regional Anti-Corruption Initiative and The AIRE Centre Western Balkans with the support of the UK Government organized "European Court for Human Rights Jurisprudence in Matters of Property Acquired by Criminal Activity" webinar that included lecturers judge Mirjana Lazarova Trajkovska and judge Radmila Dragicevic Dicic. Event gathered more than 100 participants from the entire Southest Europe region.
Biljana Braithwaite, director of the AIRE Centre Western Balkans, shared information on future plans and activites of AIRE/RAI cooperation in the region.
"It is a pleasure to see that for the second time this year we have gathered more than 100 practitioners from the region, confirming the importance of regional cooperation and exchange of experiences in the area of asset recovery. Sharing the jurisprudence of ECtHR is at the core of the AIRE Centre's work in the Western Balkans, as it proves to be one of the most efficient tools for establishing the rule of law in improving practice in the region. With the support of the UK Government, we are among other activities, publishing the guide with the most important ECtHR decisions. As participants are showing high interest in this model of the seminar we are planning to continue facilitating online knowledge sharing with the participation of the most eminent regional and European experts."
Desislava Gotskova, LLM, Head of Regional Anti-Corruption Initiative Secretariat, emphasized the importance of the regional cooperation on asset recovery.
"Five years ago Regional Anti-Corruption Initiative Secretariat and the AIRE Centre have started the regional programme supporting the judiciaries and other relevant institutions in the Western Balkans. The impetus for starting this programme is the importance of effective asset recovery and its potential to confiscate proceeds of crime and eventually put them to good – socially beneficial use. Confiscation of Illegally Obtained Assets is among the most effective ways to fight corruption and organized crime. It conveys a strong message that "crime doesn't pay", much stronger than any sentence imposed in non-violent criminal matters. Early on we realized that this work is very complex and multi-layered so we harnessed the regional approach to building capacity for effective asset recovery, including not only Western Balkans jurisdictions but also RAI members beyond WB: Bulgaria, Croatia, Moldova and Romania. This approach allowed us to start building something we didn't think was conceivable – a lively regional dialogue of asset recovery practitioners from across the SEE", concluded Gotskova.