December 6, 2021
Posted by:

Dejana Grbic-Velagic

Categories:

Breaking the silence - CAMPAIGN, Breaking the Silence news, RAI News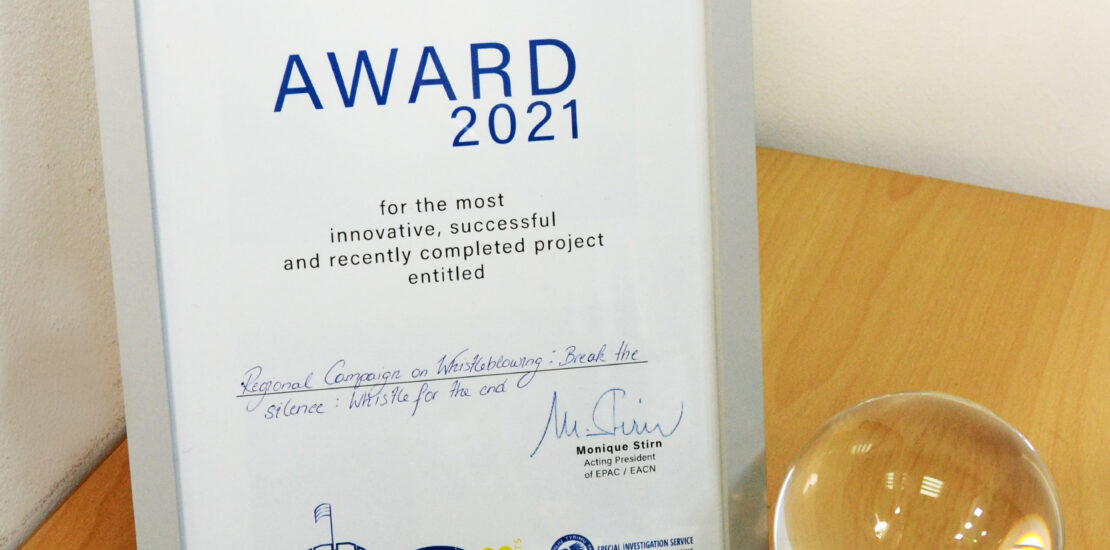 RAI regional campaign on whistleblowing "Break the Silence: Whistle for the end" won EPAC/EACN 2021 Award for the most innovative anti-corruption initiative. The award was announced during the 20th EPAC/EACN Annual Professional Conference and General Assembly in Vilnius, Lithuania, organized from 1-2 December. RAI "Whistle for the end" campaign was chosen as the best one of the majority of votes of the 84 EPAC member states' delegates.
Aneta Arnaudovska, Senior Anti-Corruption Advisor of the RAI Secretariat, received the award on behalf of the Regional Anti-Corruption Initiative. On this occasion, she stressed that corruption never sleeps, and only by working together we can "whistle for the end" and stop this burning problem. The message best illustrated the winning campaign.
The campaign was implemented in 7 capitals across Southeast Europe: Sarajevo, Podgorica, Tirana, Pristina, Skopje, Chisinau and Belgrade. It was conceived as a guerrilla activation, where the destruction of money was placed in a transparent box, demonstrating a visible, but at the same time an untouchable process. Citizens had the opportunity to actively participate in the performance, by pressing the button "whistle for the end" of corruption and their move symbolically saved over 8 million euros.
Whistle for the End! is part of the educational-informative campaign that is being realized by the Regional Anti-Corruption Initiative, with the financial support of the European Union, within the project "Breaking the Silence: Enhancing Whistleblowing Policies and Culture in the Western Balkans and Moldova". Within this project, the RAI Secretariat is working on strengthening the legislative and institutional framework for the protection of whistleblowers, in line with the new EU Directive on their protection.