June 3, 2022
Posted by:

Arman Fazlic

Categories:

Breaking the Silence - YOUTH, Breaking the Silence news, RAI News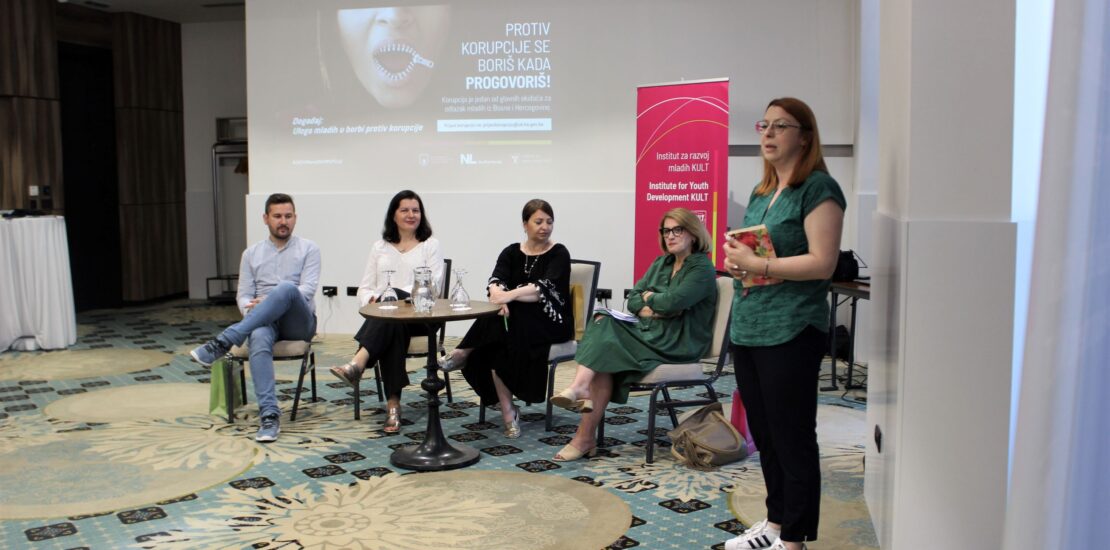 Sarajevo, June 2 – RAI Secretariat participated in the youth event titled 'Speak Up Against Corruption! The role of youth in the fight against corruption' organized by the Institute for Youth Development KULT to promote whistleblowing as one of the most effective anticorruption instruments.
Ms. Elmerina Ahmetaj Hrelja, RAI Project Manager and Anticorruption Expert of the EU-funded regional project 'Breaking the Silence: Enhancing Whistleblowing Policies and Culture in the Western Balkans and Moldova', facilitated the discussion about the role of youth in the fight against corruption. Results of RAI Youth Survey show that a significant number of youth (72%) would report corruption if they experienced or witnessed it and that justice and integrity would motivate them to do so. The most discouraging factor for BiH youth to report corruption is skepticism (62%), i.e., the belief that not nothing would come out of it, followed by fear from retaliation (35%), friendship (22%) and belief that it is not their responsibility (19%). Following the presentation of survey results and the screening of RAI social experiment video Whistle – For the Brave Ones! youth participants emphasized the importance of anticorruption education, measures to prevent corruption (e.g. improved public services) and improved whistleblower protection as a way to effectively fight corruption.
RAI will continue to discuss challenges and work on solutions to fight corruption effectively, through direct engagement in dialogue and collaboration with partners and stakeholders – public institutions, CSOs, the general public and the youth alike.