November 4, 2021
Posted by:

Arman Fazlic

Categories:

Breaking the Silence news, RAI News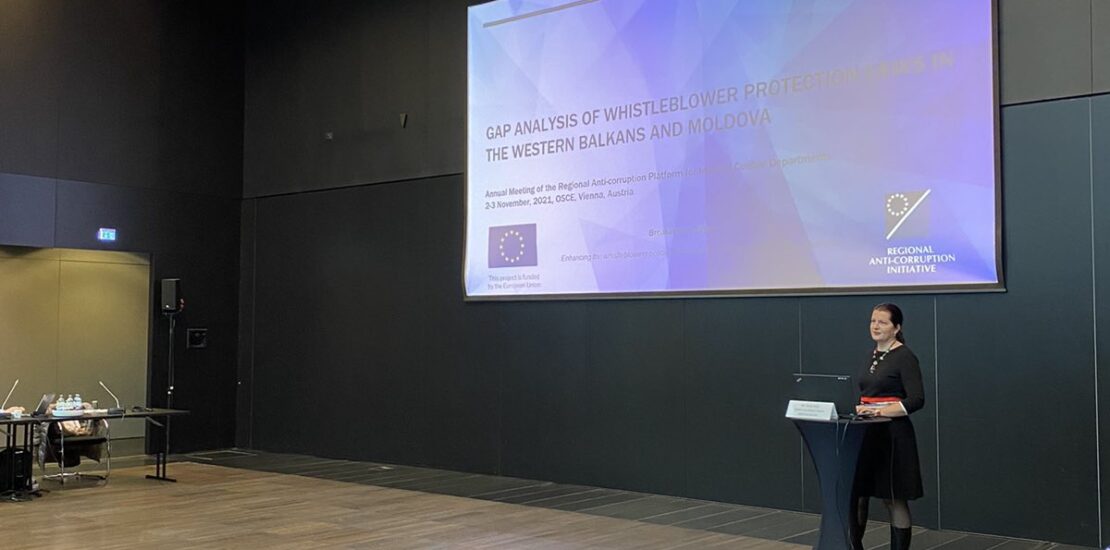 Vienna, 2-3 November 2021 – OSCE Vienna, the host, and organizer of the Annual Meeting of the Regional Anticorruption Platform of Internal Control Departments of the Western Balkans, Moldova and Ukraine invited RAI Secretariat to present its recently published Gap Analysis of Whistleblower Protection Laws in the Western Balkans and Moldova at the meeting. This platform provides a forum to explore trends, developments, challenges and achievements in preventing and countering corruption, as well as promoting integrity in law enforcement.
Ms. Elmerina Ahmetaj Hrelja, Project Manager and Anticorruption Expert, of the regional project Breaking the Silence: Enhancing Whistleblowing Policies and Culture in the Western Balkans and Moldova, funded by the European Union, presented the methodology, key findings and recommendations of the Gap Analysis.
'Without whistleblowers, corruption cannot be fought effectively. By building effective whistleblower protection programmes through better laws, but also with capacity-building efforts, we encourage whistleblowing as one of the most effective instruments in detecting and combating corruption', said Ms. Ahmetaj Hrelja.
Findings and recommendations of the Gap Analysis will serve as foundation of follow up advocacy for better laws, capacity building of relevant public institutions and public information and the education campaign.