June 24, 2021
Posted by:

Anja Suvalija

Category:

RAI News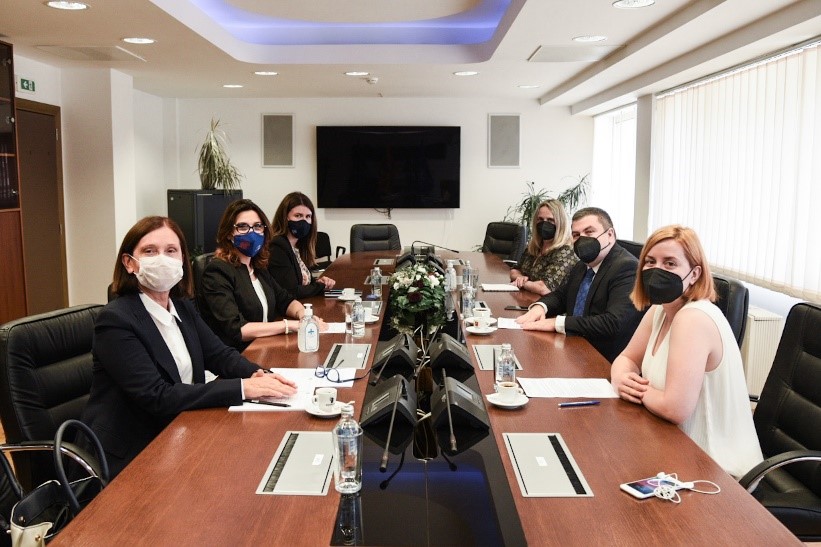 Regional Anti-Corruption Initiative (RAI) Secretariat met with the representatives of the Ministry of Justice of North Macedonia on June 24, 2021.
The meeting was a great opportunity to discuss all ongoing joint activities, as well to announce activities planned in the near future and open avenues for potential new activities and interventions.
RAI Secretariat, represented by Ms. Desislava Gotskova, Head of Secretariat, Ms. Aneta Arnaudovska, Senior Anti-corruption Advisor and Ms. Aida Zukic, Chief Finance and Operations Officer, informed the Minister about ongoing activities, with special focus on the ratification process of the International on Exchange of Data for the Verification of Asset Declarations, signed in March 2021. Ms. Gotskova used this opportunity to express RAI Secretariat's gratitude for all the support of the Ministry on operational and strategic levels and especially pointed out the support and proactivity of the representatives of North Macedonia in RAI Steering Group.
The Ministry, represented by Mr. Bojan Maricic, Minister of Justice, Ms. Aleksandra Vukovikj, Special Advisor to the Minister of Justice on EU affairs and international cooperation and Ms. Frosina Tasevska, Head of EU Department at the Ministry of Justice, emphasized that the anti-corruption is a priority in North Macedonia even over the EU accession Agenda and that they are committed to go beyond the EU requirements when it comes to areas such as improving transparency, asset recovery and origin of assets. Mr. Maricic expressed gratitude to RAI for all the work and initiatives, with hope to have even better cooperation and partnership in the future.
The meeting was an opportunity to hear more about the Ministry's priorities in the future with focus on building regional expertise and improvement of bilateral and regional cooperation in the area of fight against corruption.