November 18, 2021
Posted by:

Arman Fazlic

Categories:

Breaking the Silence news, RAI News
What is required to build an organizational culture in which whistleblowers feel safe to report misconduct? How to inform and educate employees to address underreporting caused by negative perceptions about whistleblowing and whistleblowers? How to improve whistleblower disclosure channels and protection? How to deter retaliation against the whistleblower? These are some of the questions that were addressed and discussed at the two-day Second Annual Regional Multi-Beneficiary Training on Whistleblower Protection that was held last week in Sarajevo, organized by the RAI Secretariat.
The training was delivered by international whistleblowing experts Tom Devine, Thad Guyer and Mark Worth who provided trainees – public institutions and CSO representatives from Western Balkans and Moldova – with practical knowledge and tools relevant to enabling effective whistleblower disclosures and protection.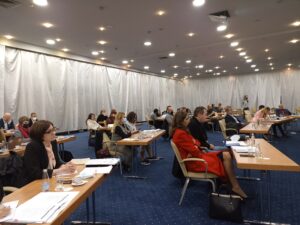 The multi-beneficiary training was facilitated on November 17-18, 2021, as part of the four-day regional meeting on whistleblower protection, organized under the auspices of the regional project 'Breaking the Silence: Enhancing the whistleblowing policies and culture in Western Balkans and Moldova', which is funded by the European Union and implemented by the RAI Secretariat.
For further information about the training content and the participants, please follow this link.