November 30, 2022
Posted by:

Arman Fazlic

Categories:

Breaking the silence - CAMPAIGN, Breaking the Silence - YOUTH, Breaking the Silence news, RAI News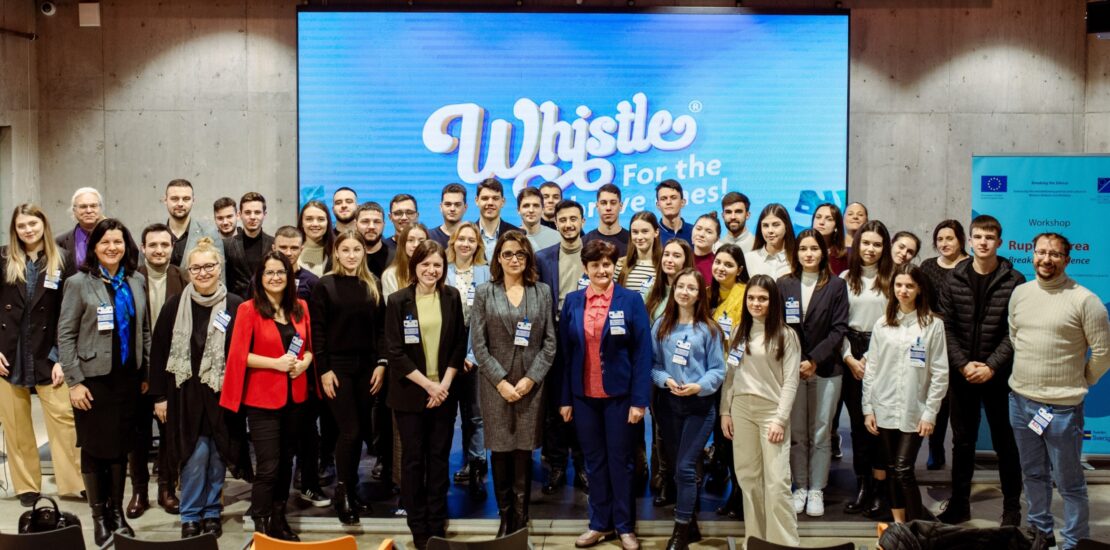 The Regional Anti-corruption Initiative (RAI) Secretariat in partnership with the Center for Analysis and Prevention of Corruption (CAPC) promoted the importance and protection of whistleblowers in line with the 2019 EU Directive in Chisinau, Moldova, at the training-workshop for youth "Breaking the Silence".
At the beginning of the workshop, the head of the RAI Secretariat, Desislava Gotskova, emphasized that young people are more likely to be creative in their approach to problem solving. "Your anti-corruption efforts are more innovative, forward thinking, and you make better use of modern technologies. This is one of the reasons why we at RAI have been engaging with youth in the region to discuss your ideas and how to turn them into action", said Gotskova.
'For a whistleblowing system to work, the culture which encourages openness, transparency, integrity and accountability is key. Such culture is created and maintained through leadership commitment to: prevent and address wrongdoing, encourage people to report wrongdoing, investigate the wrongdoing and protect the whistleblower, secure resources for an effective whistleblowing system, identify lessons learnt and translate them into improved practices', said RAI Project Manager and Anti-corruption Expert Elmerina Ahmetaj Hrelja who delivered the presentation Whistleblower Protection in line with the EU Directive.
The program coordinator from CAPC, Victoria Popa, mentioned that this center has been monitoring the implementation of the integrity whistleblower mechanism since 2018, when the Law on Integrity Whistleblowers came into force. "Reporting corruption crimes is a brave act and only committed, conscious and competent people decide to make a disclosure and succeed. For four years already, CAPC has been providing full support to whistleblowers and the Ombudsman's Office in the application of this relatively new mechanism for the Republic of Moldova. All of us should provide support to those who have the courage to report corruption acts and other wrongdoings for the benefit of our public interest", said Popa.Participants had the opportunity to learn about the national and EU legislation provisions on whistleblower protection, and how the Ombudsman's Office protects whistleblowers. They were also presented with concrete cases of  targeted whistleblowers and the support provided by CAPC. The program included screening of the social experiment video Whistle – For the Brave Ones! produced by RAI.After the theoretical training, the practical part followed. The students had to solve various disclosure cases, which involved both the responsible authorities, journalists and lawyers. The participants were curious and showed interest throughout the workshop, noting that such training help them strengthen their knowledge in the field.
The local youth event "Breaking the Silence"was organized as part of the project "Breaking the Silence: Improving whistleblowing policies and culture in the Western Balkans and Moldova", funded by the European Union.