September 26, 2022
Posted by:

Arman Fazlic

Categories:

Breaking the silence - CAMPAIGN, Breaking the Silence news, RAI News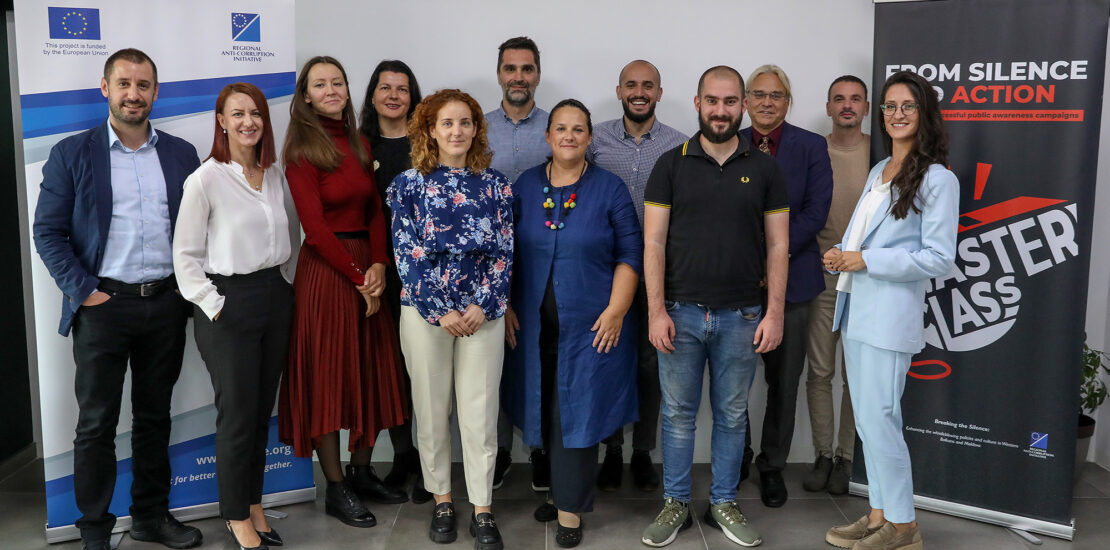 Podgorica, 26.09.2022 – In a gesture of solidarity in the joint effort for public accountability, activists, journalists, and officials gathered today to develop more effective ways to communicate anti-corruption campaigns to the public.
"Advocacy campaigns are creative and constructive tools to motivate and engage citizens to combat corruption. And citizens themselves are important allies of public institutions, NGOs, and the media in this fight, " said in today's Masterclass, "From Silence to Action!" The Masterclass was organized by the Regional Anti-Corruption Initiative (RAI). After Podgorica, Masterclasses will be held in Tirana on September 28 and in Skopje on September 30.
Engaging the general public, especially young people, and public pressure are essential allies in the fight against corruption.
"Cooperation between the media, civil society, and public officials is key to raising public awareness of the dangers of corruption. This cooperation contributes to citizens' trust in the institutional fight against corruption", concluded Mark Worth, RAI expert on anti-corruption and whistleblower rights.
"Creating public advocacy campaigns comes with great excitement and responsibility for us on the agency side. The primary goal is always to awaken the public by pinpointing a problem clearly through the creative concept. This is the essential step in educating the public about the problem's importance and for starting a conversation about its potential solution.", said Kenan Kurdić, Via Media, talking about the importance of informing the public about anti-corruption initiatives through successful media campaigns that can ultimately motivate society to act against corruption.
The masterclass "From Silence to Action" is part of the project "Breaking the Silence: Enhancing Whistleblowing Policies and Culture in the Western Balkans and Moldova," implemented by RAI and funded by the European Union. The project's overall goal is to strengthen the resilience of societies and their administrations to corruption.
This project aims to inform and educate the general public, especially young people, about the vital role that whistleblowers play in the fight against corruption and the rights and protections from which whistleblowers should benefit. The Regional Anti-Corruption Initiative (RAI) is the only intergovernmental organization exclusively dedicated to the fight against corruption in Southeast Europe. RAI is working to improve the protection of whistleblowers through better laws and strengthening the capacity of institutions to implement these laws, following the EU Directive on whistleblower protection passed in 2019.
RAI Secretariat is working to enhance regional cooperation and anti-corruption efforts by providing a common platform for dialogue, knowledge sharing, and best anti-corruption practices in Southeast Europe.