March 14, 2023
Posted by:

Arman Fazlic

Categories:

Breaking the silence - CAMPAIGN, Breaking the Silence - YOUTH, Breaking the Silence news, RAI News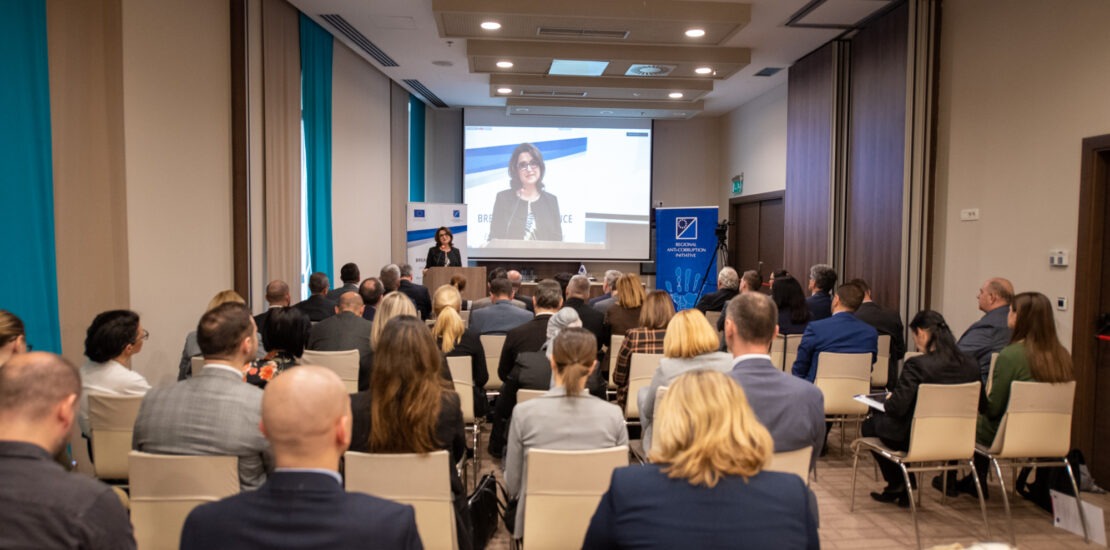 Sarajevo, March 14, 2023 – The results of the EU funded regional Project 'Breaking the Silence: Enhancing Whistleblowing Policies and Culture in the Western Balkans and Moldova' (1 April 2020 – 31 March 2023) were presented and discussed today in Sarajevo, at the event symbolically titled 'Have We Broken the Silence'.
The event was organized by the Regional Anticorruption Initiative (RAI) Secretariat in collaboration with the EU Delegation to Bosnia and Herzegovina.
The opening remarks were delivered by Ambassador Johann Sattler, Head of EU Delegation and EU Special Representative to BiH, Thomas Hagleitner, Head of Unit Western Balkans Policy and Regional Strategy, EC DG NEAR and Desislava Gotskova, Head of RAI Secretariat.
"Several aspects of this project deserve attention, one being that the corruption has been fought by the people, public institutions and CSOs of the region through their Regional Anti-corruption Initiative", said Thomas Hagleitner, Head of Unit Western Balkans Policy and Regional Strategy, EC DG NEAR.
Keynote speeches were delivered by beneficiaries of the Project in Bosnia and Herzegovina, including Elvis Kondzic, Director of the Agency for the Prevention of Corruption and Coordination of the Fight Against Corruption of BiH and Darja Softic Kadenic, Minister of Justice of Sarajevo Canton.
Following the presentation of project activities and results, by the Anti-Corruption Expert and Project Manager, Elmerina Ahmetaj Hrelja, friends of the project, Tom Devine, RAI Whistleblowing Expert and Legal Director of the Government Accountability Project, USA, Arjan Dyrmishi Coordinator of the SEE Coalition on Whistleblower Protection, and COL Dimitrios Biris, Programme Manager for SSG Pillar at RACVIAC, shared their perspective on the significance of continuous support to whistleblower protection..
In answering the question whether we have broken the silence, Elmerina Ahmetaj Hrelja, noted that 'with an outreach of 30 million people in the region through its regional public information and education campaign on whistleblowing, RAI and its partners have certainly had their voice heard. RAI provided resources relevant to improved whistleblower protection, which are the first not only in the region, but beyond – Gap Analysis, Model Provisions, Whistleblowing On-Line Tools. Furthermore, RAI training evaluation shows that caseworkers have better understanding, practical knowledge and confidence when handling whistleblower cases, while policy makers discuss whistleblower protection with a higher level of expertise.'
The creative and innovative approaches used to mobilize public support for anticorruption efforts, were presented through the screening of Guerrilla Campaign Video, RAI's award-winning anticorruption awareness raising campaign, and the Whistleblower Human Interest Story Video.
The event was attended by ambassadors and deputy heads of missions of embassies of Croatia, Albania, Romania Bulgaria, Montenegro, North Macedonia, France, Sweden, Germany, Switzerland, Netherlands, Austria, Greece, Slovenia and Egypt, as well representatives of international organizations and missions UNDP BiH, UNODC, Council of Europe, IISG, RACVIAC, representatives of local institutions, including Ministry of Justice of BiH and Ministry of Security of BiH, and local civil society and investigative media organizations.
'We are grateful to all our partners in the government and non-governmental sector for their participation and support to our anticorruption efforts. But this is an occasion at which we would like to especially thank the EU – DG NEAR in Brussels and EU Delegations in each project beneficiary jurisdiction for their support to our anticorruption efforts, regionally and nationally. Without your support we would not be standing here today, sharing our experiences, successes and lessons learned' said Ms. Gotskova in her remarks.