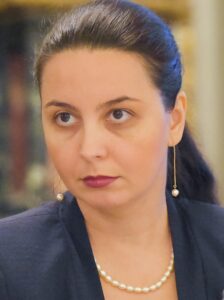 Acting Chairperson as of November 2023. Elected at the 35th RAI Steering Group Meeting held on October 22, 2021 via teleconference.
Ms. Stefan is the Executive Director of Expert Forum, and she is a former Director in the Romanian Ministry of Justice. Ms. Stefan is a recognized international anti-corruption, assets recovery and rule of law expert with the European Commission, the World Bank, UNDP and the Council of Europe.
Ms. Stefan graduated from the Bucharest School of Law and the Master program of the Cambridge University. Since 2011 she has been a member of the Expert Group on Corruption.
Between 2005 and 2007 she was a Director within the Ministry of Justice of Romania and was responsible for anti-corruption policies. She elaborated and supported the adoption of the anti-corruption legislation, developed and implemented various programs for civic awareness and worked to reform the Public Prosecutors' Office in Romania.
In 2015 she received the title of Brave Woman of the Year from the US Embassy in Bucharest and a fellowship from the Eisenhower Foundation, which included a two month visit in the US.
Email address: Istefan@rai-see.org
Related documents:
Terms of Reference – Chairperson
---
Former Chairpersons of the Regional Anti-Corruption Initiative
Todor Kolarov from Bulgaria (2018 – 2019)
Davor Dubravica from Croatia (2011 – 2018)
Vesna Ratkovic PhD from Montenegro (2007 – 2011)
Professor Ugo Draetta from Italy (2002 – 2007)
Giuseppe di Gennaro from Italy (2000 – 2002)